Research Network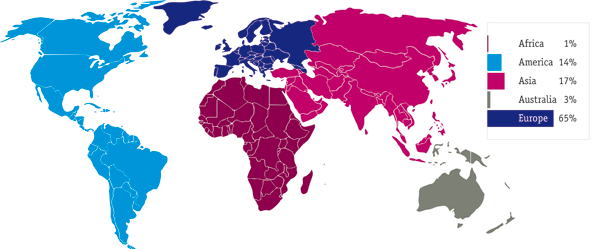 The IRF has a fascinating and diverse membership that ranges from university students through internationally renowned scientists in various disciplines to professionals from diverse industries with a strong interest in Information Retrieval.


IRF members come from prestigious organizations like:
The IRF is involved in research projects with the following partners:
World Health Organization, Department of Knowledge Management and Sharing (KMS)
The vision of WHO knowledge management is a world with better and more equitable health outcomes. The mission is to improve the understanding and application of knowledge management in the pursuit of WHO's mandate. In line with this strategy, WHO cooperates in the project Khresmoi, of which the IRF is scientific coordinator.
Europe
The goals of the Center for the Evaluation of Language and Communication Technologies are to set up infrastructures and develop skills in order to operate successfully in the field of the evaluation of language and communication technologies, becoming a reference point in the field at the national and European levels.
Charles University, Prague, CZ
The Institute of Formal and Applied Linguistics was established in 1990 as a continuation of the research and teaching activities carried out by the former Laboratory of Algebraic Linguistics since the early 60s at the Faculty of Philosophy and later at the Faculty of Mathematics and Physics, Charles University in Prague.
CIR Lab, Medical University Vienna, AT
The CIR lab (Computational Image Analysis and Radiology) is an interdisciplinary research group of people from medicine, computer science and mathematics who join from different faculties. It is located at the Department of Radiology at the Medical University of Vienna, is also affiliated with the Institute of Computer Graphics and Vision at the Graz University of Technology, and is cooperating with the Computer Vision Lab at Vienna University of Technology.
Dublin City University, School of Computing, IE
The School of Computing provides a lively and active environment for research in many areas of computing. It currently has over 80 research postgraduate students and a wide range of currently funded research projects at national and international level.
ELDA - Evaluations and Language resources Distribution Agency – is ELRA's operational body, set up to identify, classify, collect, validate and produce the language resources which may be needed by the HLT – Human Language Technology – community. Besides, ELDA is involved in HLT evaluation campaigns.
Fondazione Ugo Bordoni, IT
Founded in 1952, the Fondazione is an Institution of High Culture that is meant to perform and support research and scientific studies as well as applications in telecommunications, information technology, electronics and multimedia services.
Health On The Net Foundation, CH
The Health On the Net Foundation (HON) promotes and guides the deployment of useful and reliable online health information, and its appropriate and efficient use. Created in 1995, HON is a non-profit, non-governmental organization, accredited to the Economic and Social Council of the United Nations.
High Performance Computer Center, University of Stuttgart, DE
The High Performance Computing Center Stuttgart (HLRS) of the University of Stuttgart supports researchers from Germany and Europe as well as industry with leading edge supercomputing technology. Services are supplied in collaboration with scientific and industrial partners.
Humboldt University Berlin, Institute for Library and Information Science
Information Management Systems (IMS) Research Group, University of Padua, IT
The Research Group was formed in the Department of Information Engineering (formerly Department of Electronics and Computer Science) of the University of Padua, Italy, in 1987 when the department was established.
The group activities are concerned with the design, modeling and implementation of advanced information retrieval tools - such as search engines - and digital library systems.
The Max Planck Institute for Human Development
is a multidisciplinary research establishment dedicated to the study of human development and education. The disciplines of education, psychology, and history reflect the current directors' backgrounds, but the Institute's scholarly spectrum is enriched by the work of colleagues from such fields as behavioral developmental neuroscience, sociology of education, mathematics, economics, computer science, evolutionary biology, and the humanities.
Queen Mary University London, UK
The Queen Mary University of London is one of the UK's leading research-focused higher education institutions with 3,000 staff and 15,000 students.
Radboud University Nijmegen, NL
Established in 1923 and situated in the oldest city in the Netherlands, the Radboud University Nijmegen has nine faculties and enrols over 17,500 students in 107 study programmes. It is one of the leading academic communities in the Netherlands.
Sapienza, University of Rome, IT
is a partner in the PROMISE Network of Excellence.

Semantic Technologies Institute, Universität Innsbruck, AT
STI Innsbruck is a research institute engaged in research and development to bring information and communication technologies of the future into today's world.
Society of Physicians in Vienna, AT
The Society of Physicians in Vienna acts as meeting point, advanced training facility, and experience exchange hub for medical doctors. The website of the Society offers an online library, CME-courses, webcasts, podcats and mobile services for physicians.
Swedish Institute of Computer Science, SE
SICS is a research organisation focusing on applied computer science: Communication networks and system architectures: Software, platforms and methods, Industrial Applications, Consumer oriented services and products
Universität Duisburg-Essen, DE
About 32,000 students are now enrolled in thirteen departments. A research staff of 3,000 academics and non-academics fuel this university. The spectrum of academic disciplines ranges from the humanities, social, economic and political sciences, to medical engineering, natural and life sciences, to the highly regarded art and design departments. Students from 120 different countries are enrolled at the university and provide a lively international community.
University Joseph Fourier, FR
is one of the top universities in France. It provides students with its high-quality education, enabling them to gain strong professional skills. 17000 students are registered at UJF to study a wide range of disciplines covering sciences, technology, medicine and society.
University of Applied Sciences of Western Switzerland (HES-SO), CH
The IRF partners with the Institut Informatique de gestion HES-SO Valais/Wallis in the project Khresmoi and in the Network of Excellence, Promise.
University of Glasgow, UK
Founded in 1451, the University of Glasgow is the fourth oldest university in the United Kingdom and has nearly 16.000 undergraduates, 4.000 postgraduates and 4.000 adults in continuing education.
University of Sheffield, UK
One of the UK's leading universities, the University of Sheffield has produced five Nobel Prize winners and teaches over 24,000 students from 131 countries. The IRF works together with the Department of Computer Science.
WON - The Dutch Patent Information User Group
WON provides a forum for discussing all matters related to patent information. It keeps in close touch with its sister societies abroad. Its membership includes patent issuing authorities and information providers as well.
Vrije Universiteit Amsterdam, Intelligent Systems Lab, NL
VU University Amsterdam stands for high quality, fundamental, innovative and socially oriented research. The Intelligent Systems Lab Amsterdam ISLA at the University of Amsterdam performs fundamental, applied and spin-off research. We define intelligence as observing and learning; observing the world by video, still pictures, signals and text and abstracting knowledge or decisions to act from these observations.
Zurich University of Applied Sciences, CH
The ZHAW is one of the largest and most productive universities of applied sciences in Switzerland, with a strong presence both nationally and internationally. Among the ZHAW's distinguishing features are interdisciplinarity and a close connection to everyday working practice.
USA
Carnegie Mellon University
Carnegie Mellon University is a global research university of more than 10,000 students, 70,000 alumni, and 4,000 faculty and staff. Recognized for its world-class arts and technology programs, collaboration across disciplines and innovative leadership in education, Carnegie Mellon is consistently a top-ranked university.
University of Massachusetts Amherst, US
UMass Amherst is the flagship campus of the University of Massachusetts system with more than 26.000 undergraduate and graduate students and 1.180 full-time instructional faculties.
ASIA
Singapore Management University
Korean Advanced Institute of Science and Technology
Korea Advanced Institute of Science and Technology (KAIST) was established in 1971 as the nation's first graduate school specializing in science and engineering education and research. KAIST continues to be Korea's foremost center for mid- to long-term strategic R&D projects with national and international significance.

AUSTRALIA
CSIRO
CSIRO, the Commonwealth Scientific and Industrial Research Organisation, is Australia's national science agency and one of the largest and most diverse research agencies in the world.