Patent Language Translations Online (PLuTO)
Patents are characterised by their specific language usage, being both technical and legal documents. Furthermore, the multi-national distribution of patent sources poses a challenge because users and patent examiners need to identify and connect to different data sources in multiple languages.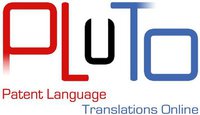 PLuTO
PLuTO aims to overcome these barriers by providing an integrated, online translation tool, where several human experts (technical, legal, consultants) can take advantage of existing web-content and data-driven and adaptable machine translation tools (MT) to collaboratively select and translate patents.
Starting on 1 April 2010 with a duration of 3 years, PLuTO will build on existing state-of-the-art machine translation tools, currently successfully used for trademarks, and adapt them to the wider area of Intellectual Property (IP) protection, and to patent translations in particular. Based on the experience of the consortium members, the team will build an online machine translation system capable of assisting patent searchers with their multi-lingual information needs, much more reliably than general-purpose MT tools and much faster than human-based translations. The ultimate aim, which goes beyond the project timeline, is to cover all 23 official European languages. However, among the first languages to be addressed will be EN, DE, FR, ES, RU, NL and SE. The PLuTO consortium is particularly qualified to address the specificities of these languages.
Moreover, PLuTO - being funded under the ICT Policy Support Programme - should help to build the European Digital Information Space and facilitate multilingual access to digital patent libraries while being further developed as an open access and community-based application. One main emphasis will therefore be on the usability side of the translation environment. Throughout the project user feedback will be collected, analysed and brought back into the development. Another strength of the project is its bridging of academic and industrial research efforts, which brings about a sound business model, and makes optimum use of skills and technologies, to successfully deploy a new multilingual and cross-border service.

Project Coordinator and project contact: Paraic Sheridan, Dublin City University
European Commission Funding Scheme: PP Strategic Objective: Theme 5

ICT-PSP Objective Identifier: 5.1 Machine Translation for the Multilingual World