Overview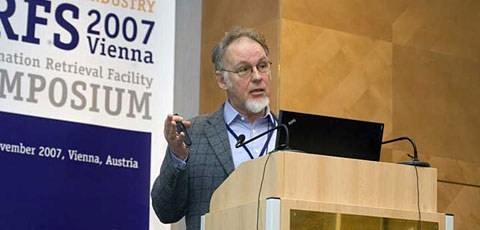 On 8 and 9 November 2007, the Vienna Marriott Hotel was the setting for the IRFS 2007, the first solution-driven, cross-cutting international dialogue between patent experts from global corporate industry and information scientists from the fields of text mining, natural language processing and information retrieval (IR).

The objective of the symposium, entitled "Science meets Industry", was to provide sustained support to applied research and to the development of commercial applications.
"50 million patents later, we still search as we did 28 years ago"
said Henk Tomas, expert on patent searching, when asked to describe the main problem involved in patent retrieval. Condemned to these old technologies, without having access to new searching methods, and in view of steadily rising numbers of patent applications, professional patent searchers as well as patent offices face a serious challenge: to search existing patent data efficiently on the one hand, and to make sure no filed patent application or new product can be contested because of existing industrial property rights or inventions that have already been made.